Think You've had a Bad Day?
Michael Farquhar Delves into the Day-to-Day Saga of
Ignominy, Idiocy, and Incompetence in History


I can't remember the last time I laughed this much in an interview – especially one that included carbuncles, cannibalism, and Thomas Jefferson's rear end. Bestselling author Michael Farquhar shares More Bad Days in History and reminds us that history is not all black and white – that complexities exist – and that we are all pretty much the same.
Michael tells us how General Patton's widow put a Hawaiian curse on her husband's mistress, how Joe DiMaggio gave Florence Kotz a doozy of a day, and how Colonial Massachusetts had some terminal consequences for disobedient children.
Having a bad day? You won't feel so bad after listening to our chat!
Click on the player below to hear the chat with Michael Farquhar and Pam
About Michael Farquhar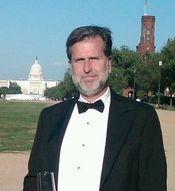 A former writer and editor at The Washington Post, Michael Farquhar is the bestselling author of numerous books, including the critically acclaimed Behind the Palace Doors and Secret Lives of the Tsars, as well as the popular Penguin "Treasury" series: A Treasury of Royal Scandals, A Treasury of Great American Scandals, A Treasury of Deception, A Treasury of Foolishly Forgotten Americans. His latest titles are Bad Days in History: A Gleefully Grim Chronicle of Misfortune, Mayhem, and Misery for Every Day of the Year, and its sequel More Bad Days in History: The Delightfully Dismal, Day-by-Day Saga of Ignominy, Idiocy, and Incompetence Continues. He lives in Washington, D.C.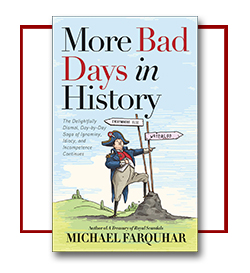 ​
For more from Michael Farquhar: Click here