How a Cult Member of 23 Years Finally Got Out
Spencer Schneider Shares an Insider View into Cults

Have you ever wondered about cults? How do you get into one? How do you get out? Why don't you leave when things get abusive? Why do people stay? Spencer Schneider is a former member of a Manhattan cult, who finally got away after 23 years in the cult.
His new book Manhattan Cult Story covers the journey from how he got in, to how he got out, and all the sordid details in between. In our chat we learn how people were targeted, some of their internal vocabulary they use, and how he came to doubt himself. We talk about gaslighting, mind games, and how relationships were regulated. Plus, how Spencer finally was able to leave.
It's a rare insider view to the world of cults and how they work, with a strong dose of hope at the end.
Click on the player below to hear the chat with Pam and Spencer

About Spencer Schneider

A native of Long Island, Spencer Schneider is practicing attorney who specializes in corporate litigation in New York. Mr. Schneider is also an open water marathon swimmer and ice water swimmer. He is employed as an ocean lifeguard, operates a lifeguard training academy, and co-founded a water rescue group. Mr. Schneider is a contributing writer of EAST Magazine. His book, "Manhattan Cult Story: My Unbelievable True Story of Sex, Crimes, Chaos, and Survival," will be released by Arcade Publishing and distributed by Simon & Schuster on July 5, 2022. Mr. Schneider lives in New York and East Hampton.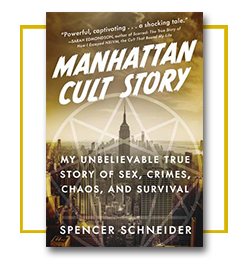 Mr. Schneider received his BA in Philosophy from Washington University in 1982, and his JD from Cardozo School of Law in 1985 where he was Articles Editor of the Arts and Entertainment Law Journal. He received the annual faculty award for best Law Review note. He began his legal career in 1986 at a predecessor firm to the New York City branch of Hogan Lovells.
For more about Spencer, check out his website: spencer-schneider.com
For his book, Manhattan Cult Story: Click here
Check out his blog here: cultrevolt.com
Follow him on Instagram at @OfficialSpencerSchneider