As we begin to fully understand all the ins and outs of the current administration, a big question is – who really are Jared and Ivanka Kushner? Who are the people behind the façade? Acclaimed author and investigative journalist Vicky Ward draws back the curtain and gives us some insight into Kushner, Inc., which happens to be the title of her NYTimes bestselling  book.
We find out how Jared and Ivanka's fathers informed so much of their lives, and how Jared's father thought his family was just like the Kennedy's.  We'll also understand why Jared bears so much animosity towards Chris Christie, and what his 3-point plan was to rehabilitate the family name and reputation.
Plus – Vicky tells us how dependent Ivanka is on her father's approval and how Jared and Ivanka have an authenticity problem.
We didn't have near enough time to ask everything we wanted, but here's our chat with Vicky that will be leaving you wanting to know more about Kushner, Inc.
Click on the player below to hear the chat with Vicky and Pam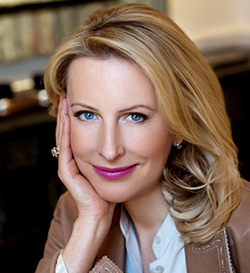 Vicky Ward is a New York Times bestselling author, investigative reporter, and magazine columnist.
Currently, she is the editor at large of HuffPost and HuffPost's long-form magazine, Highline, as well as at Town & Country magazine. Previously, she was a contributor to Esquire and contributing editor to Vanity Fair for eleven years where her articles covered politics, finance, art, and culture.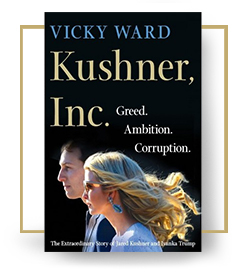 She was a contributing editor to Vanity Fair for eleven years where her articles covered a wide array of subject matter: politics, finance, art and culture and society. Among other things she wrote about Hewlett Packard, Morgan Stanley, Bruce Wasserstein, a failed coup in Africa, Kate Middleton, Valerie Plame, counterterrorist czar Dick Clarke, Brooke Astor, Veronica Hearst, the Guggenheim, the Getty, Phillips de Pury Luxembourg, St Barths, Vivendi, Jeffrey Epstein, Washington Interns, the Fairfield Greenwich hedge fund and Bernie Madoff.
She has also been a columnist for the London Evening Standard and has contributed to, among others, The Financial Times, the New York Times, The London Times and Sunday Times, The Daily Telegraph, the UK Spectator Magazine, British Vogue, US Harpers Bazaar and Porter.
She is a graduate of Cambridge University in the UK, where aged 24 she was awarded runner-up for the Catherine Pakenham award, Britain's most prestigious prize for longform writing by women under the age of 25.
Vicky's Website: vickyward.com
Vicky's instagram: www.instagram.com/vpjw_
Vicky's Facebook: www.facebook.com/VickyPJWard/
Vicky's Twitter: @VickyPJWard
For your own copy of  Kushner Inc.  Click Here