LGBT Pioneer Arlene Goldberg on Simple Human Dignity
A snapshot in time before Rainbow Flags and Pride Parades

A pioneer in the LGBT community, and lead plaintiff in a groundbreaking ACLU Federal lawsuit for gay marriage rights in Florida, Arlene Goldberg shares her story from her book Simple Human Dignity, a personal and touching memoir.
We hear firsthand about growing up gay in the late 50s and 60s, having to lie to the people most important in her life, and how she felt she let her parents down.
Arlene shares what areas we still need to work on, the surprising issues facing older LGBT Americans, and what allies can do to help the LGBT community.
Click on the player below to hear the chat with Arlene Goldberg and Pam
About Arlene Goldberg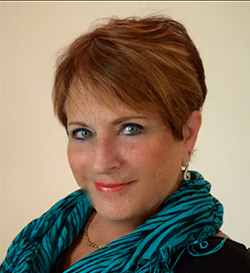 Arlene Goldberg is a leader and pioneer in the LGBTQ+ community, and the recipient of Equality Florida's 2014 Voice for Equality Award. She was one of the plaintiffs in the groundbreaking ACLU class-action lawsuit related to same-sex marriage laws in Florida. History was made when she and her wife, Carol, became the first same-sex couple to have their New York marriage officially and legally recognized by the State of Florida. Arlene cofounded Visuality in 2011 in Southwest Florida, and Southwest Florida Pride, Inc. created the Goldberg Award in her honor, to recognize outstanding individuals that have contributed to the cultural, social and economic fabric of the LGBTQ+ Community in Southwest Florida.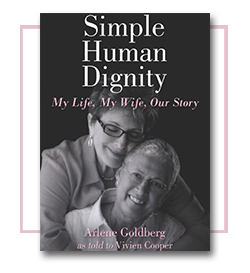 ​
For her book, Simple Human Dignity: Click here
Follow her on Twitter: @agoldberg32
Follow her facebook business page (you can always message her there:)