Going Under the Sea with Oceanographer & Activist
Dr. Sylvia Earle as she discusses her new NatGeo book
Ocean – A Global Odyssey

Explorer, oceanographer, and field scientist, Dr. Sylvia Earle has been advocating for the health of our ocean for decades. The author of National Geographic's  Ocean – A Global Odyssey, Dr. Earle navigates the deep for us and shares stories about everything from the personality of fish to what it was like to be an Aqua-Naughty!
Former Chief Scientist of the National Oceanic and Atmospheric Administration –  NOAA (the first female to hold that job), the designer of underwater submersibles, and the founder of Mission Blue, Dr. Earle is Time's very first Hero for the Planet and is a pioneer for females in the study of oceanography. We talk about her time under the sea, why this book is so very important, and what over-fishing is doing to the ocean.
Click the player below to hear the chat with Dr. Sylvia Earle & Pam

About Dr. Sylvia Earle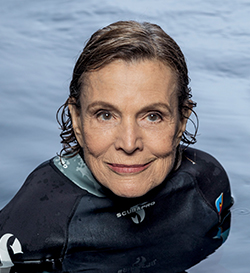 Long recognized as one of the world's top experts on ocean science and conservation, Sylvia Earle is the president and chairman of Mission Blue and a National Geographic Explorer at Large, and former Chief Scientist of NOAA. Called "Her Deepness" by The New Yorker and the New York Times, a "Living Legend" by the Library of Congress, and a "First Hero for the Planet" by Time magazine, she is an oceanographer, explorer, author, and field scientist. In 1970, told she could not join a crew of men testing an undersea laboratory, she helped recruit and lead an all-woman team of scientists to live underwater for two weeks of research. A passionate advocate on behalf of the ocean, she continues to cross boundaries, pioneer exploration and inspire protection for wildlife and wild places.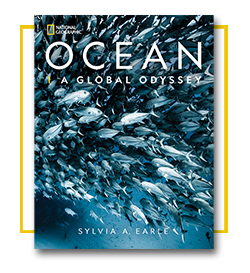 ​For her book, National Geographic Ocean: A Global Odyssey: Click here
Follow her on Twitter: @sylviaearle
And on Facebook: Click here
For more on Mission Blue, Click here