The 21st Century: Photographs from the
National Geographic Image Collection
Celebrating the first 21 years of the century
with Nat Geo Editor in Chief Susan Goldberg
Can you believe we are already 21 years into the new century? National Geographic is celebrating that with a beautiful new coffee table book – The 21st Century: Photographs from the Image Collection. We chat with NatGeo Editor in Chief Susan Goldberg about this fabulous book that is set up chronologically with 250 photos in 400 pages. We talk about some of the amazing photographs that are products not only of traditional photography, but also images from the innovations of digital, drone and smartphone photography. The book also answers our questions about what the photographer was thinking when he shot the photo and what the backstory is.
We find out how Susan chose only 250 photos from almost 65 million images in the national Geographic Image Collection, and what makes an image iconic. Plus, we also talk about the NatGeo Instagram account – that has over 190 MILLION followers! (they are the largest brand on Instagram)
In addition, Susan shares how the book helps engender compassion and empathy, and how it reminds us that we all are more alike than we are different.
It's a wonderful book to share with friends and family – to rediscover the past 21 years, and to find new things to inspire us!
Click on the player below to hear the chat with
Susan Goldberg and Pam


About Susan Goldberg

Susan Goldberg is Editor in Chief of National Geographic and editorial director of National Geographic Partners.
As editorial director, she leads all journalism across platforms, including digital journalism, magazines, podcasts, maps, newsletters, and Instagram. She was named editorial director in October 2015 and editor in chief of National Geographic magazine in April 2014.
Susan is the 10th editor and first female editor of the magazine since it was first published in October 1888.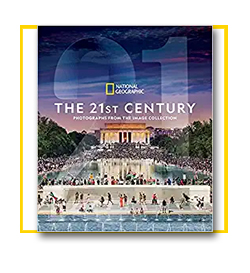 ​
For her book, The 21st Century: Photographs from the Image Collection: Click here
Follow her on Twitter: @susanbgoldberg