Ready for a better relationship with money?
Berna Anat helps us navigate the complicated waters!

So how much do you really know about money?  Do you know the best way to pay down your debt? Do you have a budget? It's fair to say that most of us have a complicated relationship with money.
Enter Berna Anat! The author of Money Out Loud shares with us all the financial stuff that no one taught us. In our chat today we learn our money habits are directly connected to what we experienced as young people, (starting at age 7!), why paying just the minimum on our credit cards is just putting us in debt hell, and how we can make budgets work for US!
Listen in to our lively and informative conversation about how to become the CEO of our own lives and create a YES Plan to give us financial stability.
Click on the player below to hear the chat with Pam and Berna

About Berna Anat

Berna Anat is an award-winning producer, speaker, podcast host, rich auntie in training, and Financial Hype Woman—which is her made-up way of saying she creates financial education media all over the Internet. A proud Filipina-American daughter of immigrants, born and raised in the Bay Area, she taught herself how to pay off over $50,000 of debt and did what any Millennial would do: Yell about it on the internet. Berna's work has been featured on platforms such as Forbes, The New York Times, and Buzzfeed. Berna was named The Plutus Awards' Most Entertaining Financial Creator two years in a row and was named one of ABS-CBN's Global Pinoy Idols. You can find Berna online at @heyberna on all platforms, at www.heyberna.com, or curled up with her nieces, watching The Office.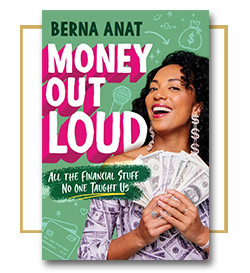 For more about Berna: Click Here
For her book, Money Out Loud: Click here
Follow her on Instagram at @HeyBerna
Twitter: @HeyBerna