Ghost Whisperer Creator John Gray on his novel The Desecrated
When my friend Richard suggested I read the book The Desecrated, I was a little hesitant because it had a supernatural bent and I'm a pure detective fan. But when he told me it was written by John Gray – I knew I had to open it up!  John Gray – the creator of the hit series The Ghost Whisperer. The director of Martin and Lewis with Sean Hayes and Jeremy Northam. The director of a ton of Grimm and Reckless episodes… Yeah, THAT John Gray.
And I'm glad I did! I raced through the book that was set in a morgue and got caught up in all the twists and turns and quirky characters. I recoiled at some of the descriptions and laughed at some of the situations. All in all – I got caught up in the book that made me start thinking "this sounds like a great movie!"
In our chat with John we find out why he delves into the supernatural, how he scared himself on a morgue set, and where he came up with some of his characters. Plus – we learn about the ghosts in his OWN home, how he turned the negative of the pandemic into a creative idea for a film, and what to expect from him next. Bonus pearl of wisdom – why it's so important to ask yourself: "Am I leading my career, or is my career leading me?"
Click the player below to hear the chat with Pam and John


About John Gray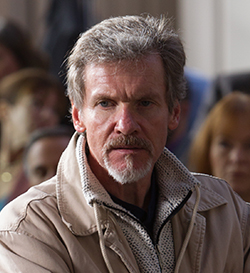 John Gray is an award-winning New York-based writer-director-producer. He created the long running hit CBS series, GHOST WHISPERER, starring Jennifer Love Hewitt, as well as writing and directing many award-winning and critically acclaimed movies for television, such as MARTIN AND LEWIS, starring Sean Hayes and Jeremy Northam; the Emmy® nominated A PLACE FOR ANNIE with Sissy Spacek; the Emmy® nominated mini-series HAVEN with Natasha Richardson and Anne Bancroft; HELTER SKELTER with Clea DuVall and Bruno Kirby, and many others.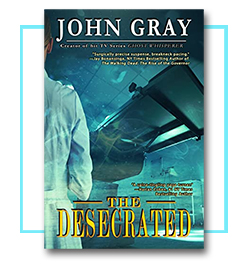 Gray has directed dozens of episodes of broadcast and cable series and was also the producing director of the CBS series,
RECKLESS
. He has written and directed several studio and independent feature films, including the award winning
WHITE IRISH DRINKERS
, starring Stephen Lang and Karen Allen, which premiered at the Toronto Film Festival.
Gray's acclaimed short films have played and are currently in film festivals all over the world including FRENCH KISS, which has also notched 6.3 million views to date on YouTube. THE DESECRATED is his debut novel.
For his book, The Desecrated: Click here
Follow him on Twitter: @JThomasGray
And Instagram: @bayrdge