Learning How to Find Joy with Former Def Jam Music Exec
And Usher manager – Grace Harry
How happy are you? I mean, truly, can you say you have a joyful life? Or do you battle anxiety and depression, and wonder if your life has meaning … and why do you feel stuck? And Is this all there is, my friend?
Perhaps you need to bring some joy into your life. What if I told you there was a strategy that would help you bring joy into your life? An actual book that would help you get there, written by a Joy Strategist named Grace Harry.  And honey … she's already been there and done that!
Not only has Grace been a successful entrepreneur in some very different types of businesses, but she's heavily responsible for some of the music that you adore. She had an illustrious 30 year career as an exec at Def Jam and Jive Records.  She managed Usher. She's worked with some of the top names in the music and entertainment industry. And now she's turned her mind and heart towards helping people find joy.
In our conversation we'll ask her what we can do to start the process, and how doing the thing that scares us the most might just be the thing to change our life.
Are you ready to find the path to inner change? To bring joy into your life? Then click below and listen to our chat!
Click on the player below to hear the chat with Pam and Grace

About Grace Harry

Grace Harry is an artist, entrepreneur, creative muse, pleasure instigator, and speaker. After an illustrious 30-year career in entertainment, Grace, "The Joy Strategist," found her calling leading what she calls "the Revolution of JOY." Through her popular playdate community "Play with Grace," she helps everyday people welcome joy back into their lives. Her work has been featured in The New York Times, HelloGiggles, Vogue Online, The Times UK, The London Evening Standard, and many more.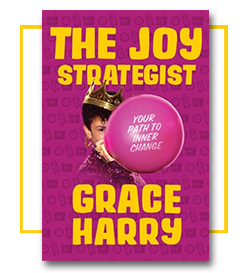 For more about Grace: Click Here
For her book, The Joy Strategist: Click here
Follow her on Instagram at @GraceHarry