William C. Pack – Bestselling Author of
The Bottom of the Sky
Writes about Kissing Chickens in his New Children's Book!

How do you go from the crazy world of Wall Street to the chicken coops of Montana, and write a sweet book for children, after you have a bestselling novel for adults?
William C. Pack explains why he wrote "Never Kiss a Chicken" after the success of his adult novel "Bottom of the Sky."  We talk divisiveness, niceness, kindness (both active and passive) and why one should never kiss a chicken.
And, it turns out, we both speak chicken! A delightful conversation with an interesting man.
Click on the player below to hear the chat with William and Pam

Photo Credit: Mallory Regan Photography
About William C. Pack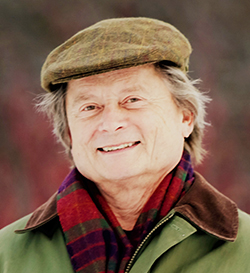 William C. Pack is a multi-award winning author. Born and raised in rural Montana, Bill left home at an early age and worked a variety of jobs from truck driver to cook before earning his GED and, at age 21, joined a major Wall Street firm. He rose to become the youngest Executive VP/Divisional Director of the largest investment firm in the world while simultaneously acting as CEO of a private food manufacturing company affiliated with Beatrice Foods and served a prestigious 3-year appointment with the NASD (now FINRA) in creating and enforcing rules and regulations on Wall Street.
At 43, due to an illness, Bill left Wall Street to pursue lifelong goals. Bill took the SATs and earned a slot at Stanford University as the oldest undergraduate on campus. In 3 years he graduated Phi Beta Kappa with distinction and high honors. His thesis received the Annual Reviews Prize in Anthropological Sciences and Bill became the chief archaeologist of Stanford's Greater Yellowstone Archaeological Site Survey.
Bill's greatest dream was to be a novelist. He was a Lucas Artists Fellowship Writer in Residence and in 2007, his first short story was published. Soon after, his debut novel, THE BOTTOM OF THE SKY, a rags to riches family saga published to great critical acclaim. The novel was a finalist for the National Best Book Award and a contender for the Pulitzer Prize. THE BOTTOM OF THE SKY was also chosen for the prestigious One Book Billings Award and has been taught in advanced university literature and creative writing classes.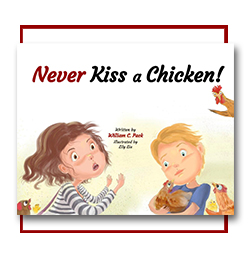 Bill has been featured on NPR affiliates, the PBS-syndicated show Between the Lines, Face the State, Forbes Personal Best, and a host of local and regional radio and television shows.
Bill has used his book sales to raise money for women's and children's charities, including: Community Overcoming Relationship Abuse in SF, The Nevada Women's Fund, the Angel Fund in MT, the American Academy of Pediatrics' Reach Out and Read CO, Reach Out and Read AZ, Babcock Elementary in Sacramento, Rafael House in Portland, and others. Bill was a Board member of the Institute of the Americas, solving energy issues in the Americas, and of other charities.
Bill Pack is married with grown children and delightful grandchildren. After residing in Northern California for many years, Bill and his wife returned to Montana, where he enjoys hanging out with his big dogs and even bigger wildlife. NEVER KISS A CHICKEN! is Bill's first children's book.
Photos courtesy of Mallory Regan Photography and Melanie Nashan Photography
For more about William C. Pack: Click here
For his book, Never Kiss a Chicken: Click here
William C. Pack on Facebook: @williamcpack