Several years ago I had the most fortunate opportunity to interview the great Carl Reiner. He had just released his book "I Remember Me" and we had a lively chat about all the stories in it.
Normally when you score a big interview (it's called a "get"), you are allowed between 10 and 20 minutes with the guest.  I was asked how long I wanted and I said "as long as I can get!" and I was offered an hour. AN HOUR!!
And when our hour was finished and the interview was over, Carl spent another half hour with me, discussing the latest book he was reading. I was in heaven.
The only thing that made me cherish my time with him even more was when he said "This is the best interview I've ever had. You are the best at what you do." 
From Carl Reiner. THE Carl Reiner. My eyes may have leaked.
Carl Reiner – Part One
If you love Dick Van Dyke, you have Carl Reiner to thank. Carl created the show that starred Dick and is one of the most beloved sitcoms in entertainment history. On top of that, he was half of the comedy duo that brought us the 2000 Year Old Man, and he delighted audiences as Saul Bloom in the Oceans 11/12/13 movies. He received 12 Emmys and a Grammy, and he wrote several books, of which I Remember Me was one.
We're delighted to bring you Part 1 of our conversation with Carl,  where he tells a touching story about Frank Sinatra, shares with us about his love for his wife and gives us some relationship advice, and answers questions that listeners asked.
Click on the player below to hear Part One of the chat with Carl and Pam
Carl Reiner – Part Two

In Part 2 we discuss physical comedy, the elegance of Steve Martin, and the genesis of the Dick Van Dyke Show. Oh… and we get some musical moments and a little double speak!
Click on the player below to hear Part Two of the chat with Carl and Pam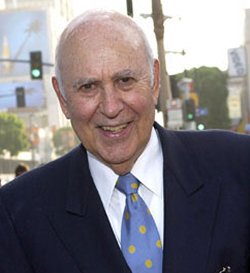 About Carl Reiner

Carl Reiner was an American actor, comedian, director, screenwriter, and publisher whose career spanned seven decades.
And a real mensch. Read a tribute to him from award-winning screenwriter/director/baseball announcer Ken Levine here.
Carl's personal publishing company can be found here.
Check out his facebook page here.