How Much Do You Understand About the Economy?
Howard Yaruss says it's easier to understand than you think!
How much do you understand about the economy? Do you know how it really affects your life? Most of us don't know more than what we're told by people we are told are experts.  But should we trust economists? And what's the biggest misunderstanding people have about the economy?
When I ran across a book written by economist, attorney, and NYU professor Howard Yaruss called Understandable Economics – Because understanding our economy is easier than you think – and more important than you know, I thought – this I have to hear! I'll agree it's more important than we know… but easier than we think?!?
So in our chat, we find out why the economy is more like psychology than civics, what inflation is, and why we are supposed to stop spending when businesses need us to spend to survive. Why do we give corporations bailouts to help them survive, but not the little guy? And who decides how much money is worth anyway? And oh yeah… Bitcoin?!?!  I promise, you will have a much better understanding of the economy after you hear this interview!
Click on the player below to hear the chat with Pam and Howard

About Howard Yaruss

Howard Yaruss is an economist, professor, attorney, businessman, and activist who greatly enjoys explaining complex issues in a clear, interesting and easily accessible way. He has taught a variety of courses on economics and business, and currently teaches at New York University. Previously, he served as Executive Vice President and General Counsel of Radian Group, one of the largest guarantors of debt in the world. He has also served on the Boards of organizations that advocate for safer streets, help the homeless and support the arts. Yaruss graduated from Brown University, studied at the London School of Economics and earned a law degree from the University of Pennsylvania. He lives in Manhattan and serves on his local community board.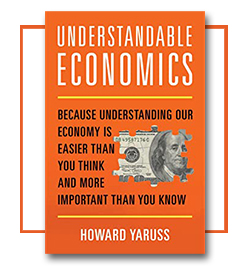 For more about Howard: Click Here
For his book, Understandable Economics: Click here
Follow him on Instagram at @UndertandEcono